Shock solution and scar treatment after a very long past injury within only 15 minutes!
At a recent basic seminar of the Tailoring Method (training lasts 3 seminars of five days each), I wanted to demonstrate a scar treatment including shock solution (emotional and cellular) . An elbow scar of a participant was suitable for this purpose.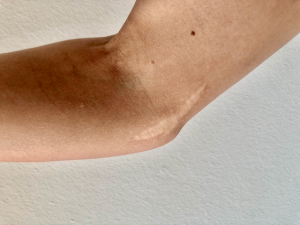 I asked if it was ok to take the participant, who is about 45 years old, as a showcase subject. "Sure," she said "but you can't attack my elbow"! I replied "but I can reach everywhere" with a smile on my face.
Many years ago I set myself the goal to really be allowed to attack all injured areas, even if I was banned. Right there are often the key points for a free, relaxed body. I know how and what to communicate to get permission for an initial gentle touch after all.
The cause of the scar was a fall from the high bar in childhood, decades ago.
The real reason for "don't attack me" was the memory that the bone was lying open, so freely visible. This caused a mega shock and a quasi non-existent pain. What was interesting was that the emotional resolution of the shock lasted just five minutes and then the woman had no memory of the injury at all. I have never experienced anything like this in all these years.
After that, it took maybe ten minutes to cellularly disrupt the scar and free the scar tissue using the modulation technique of Schneider's method and APM. A great training example and very enjoyable for the participant. Attacking the scar was no longer a problem at all. She was very relieved.
The feedback of the participants to seminar is euphoric and they are already fully in the implementation of what they have learned. Read more in the testimonials.