A massive cut on the foot completely healed in 4 weeks, painless and sustainable!
A deep cut by a knife stuck in the ground nearly split the foot. An injury that usually takes a long time to heal and may even cause discomfort years later.
In this case, it was completely pain-free and healed within three weeks and four treatments. Sustainable. No adhesions remained and the scars were barely visible.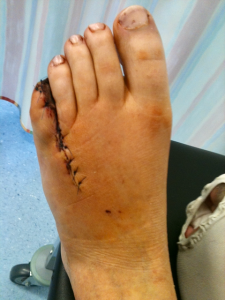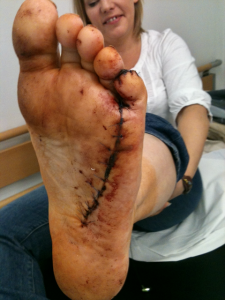 Some time ago a friend got a deep, long wound on her foot at a party. An injury that usually causes an incredible amount of problems and pain, takes a long time to heal and then usually causes many problems, often for a lifetime.
The first 2 treatments were extremely difficult as pain and fear of pain only allowed an extremely careful approach.
The shock solution was the "first act", which already brought some relief. After the first 2 treatments the progress was such that almost normal touch was possible.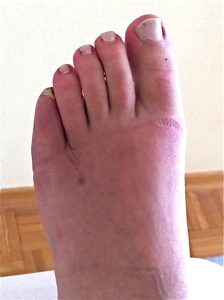 At the 3rd session, after about 2 weeks, the foot looked like this. The difference was striking and the friend was able to walk almost normally again.
At the fourth and final treatment, the wound was hardly visible.
And very importantly – there remained no consequential damage or negative after-effects, which after such injuries are often even more stressful than the initial vermilion.
Wound healing always takes place in this way or something similar when the tailoring method is used.